Need help?
Call 1300 935 532
Don't forget to bring your camera to capture the abundant bird life and relax in this unique natural environment!
Long golden beaches, rocky headlands, high forested dunes, dramatic coloured sand cliffs, dark waterways and broad lakes are some of the spectacular features that make up the Cooloola Section of the Great Sandy National Park.
Great Sandy's sheltered calm waters, shifting patterns of mangroves, seagrass, sandbanks and mud islands, and its unusual ancient swamplands known as patterned fens, are exceptionally important. These are feeding grounds for migratory shorebirds and home to several rare and threatened species: sea turtles, dugong and inshore dolphins to the lesser known mangrove-dwelling butterflies and false water rats.
Explore, take a swim in the pristine waters, photograph the abundant birdlife or simply relax in this unique natural environment.
You are invited to experience one of the truly remarkable wilderness areas of the world…..
Choose from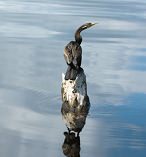 Cruise through the magnificent lakes and wetlands as you navigate your way into the mysterious and tranquil mirrored waters of the Noosa Everglades.
Enjoy an unforgettable wilderness cruise into one of Australia's most pristine regions including a delicious BBQ lunch.